Be missionärerna att besöka dig
Vi kontaktar dig och bestämmer en tid när vi kan komma förbi, ge ett upplyftande budskap och svara på dina frågor.
Tack. Vi hör av oss.
Vi ser fram emot vårt samtal. Vi kontaktar dig inom 24 timmar för att bestämma en tid med dig.
Error: Form could not be submitted at this time. Please try again or refresh the page to start over.
Hur kan missionärerna hjälpa mig?
Var och en av oss har en relation till Gud som kan vara mycket personlig, men ibland behöver vi alla lite hjälp att förstå vad Gud säger till oss. Oavsett var du är på din andliga stig kan missionärerna undervisa om evangeliets principer och insikter som kan hjälpa dig på vägen. Tänk på dem som "andliga tränare" som
hjälper dig känna dig närmare Gud
visar dig hur man ber och tar emot svar av honom
hjälper dig finna svaren på dina andliga frågor
undervisar dig om Frälsaren Jesus Kristus och hans evangelium
hjälper dig förstå skrifterna
stöttar dig i dina personliga utmaningar
uppmuntrar dig i din resa mot omvändelse, tro och dop
presenterar dig för en gemenskap av likasinnade troende som kan fortsätta stötta dig på din andliga resa.
Vad du kan vänta dig av ett besök av missionärerna
Missionärerna frågar om ni kan börja med en bön. Om du vill det kanske de till och med ber dig att hålla bönen. Målet är att inbjuda den Helige Anden att vara med i samtalet.
De kommer troligen att ägna några minuter åt att lära känna dig och ta reda på vad du är intresserad av. Missionärerna har ett helt program de kan undervisa dig om, men de försöker anpassa sitt budskap till dig och din livssituation. De läser ur Bibeln och Mormons bok med dig. De uppmanar dig också att be och fråga om det de lär dig är sant.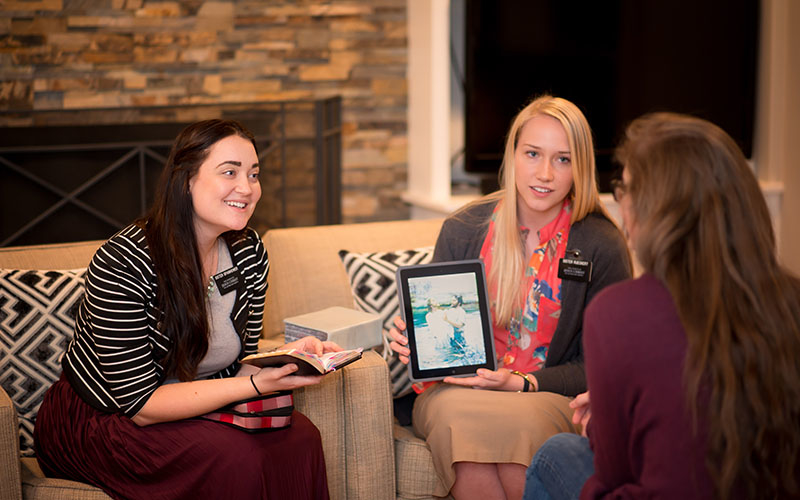 Om du vill bokar missionärerna tid för ett nytt besök hos dig. Nästa gång ni träffas lär de dig mer om Jesus Kristus och hans återställda kyrka och svarar på frågor du kanske har. Deras program innehåller budskap om Guds plan för vår lycka, det offer Jesus gjorde för oss, tro, omvändelse, dop, den Helige Anden och att hålla Guds bud. De fortsätter uppmuntra dig att be, läsa Mormons bok, gå i kyrkan och till och med att döpas. Kom ihåg att missionärerna undervisar dig i din egen takt och respekterar din tid och önskan att träffa dem igen eller inte.